ECHO PRODUCT BROCHURE
Role:
Creative Director, Designer, Illustrator, Copywriter
Task:
Create a direct mail piece that showcases all Echo products available at JThomas. The piece should be memorable and have a long shelf life.
Solution:
A fold-out poster listing all of the products, alongside a recommended, maintenance schedule infographic that customers could hang in an office or trailer. Made a one sheet poster rather than a booklet to reduce print and mail costs, but also to showcase the products in a unique way. Providing minimal information also drove traffic to the website.
SILVER STREAK TRIMMER LINE
Role:
Creative Director, Designer, Illustrator, Copywriter, UI/UX Designer, Vendor Contact
Task:
Create logos and packaging for a new set of trimmer line.
Solution:
Took the lead on the project and thus lead brainstorms and conversations around final name choices and the look of the product line. Worked with the Chinese vendor to understand requirements for packaging print and production. Oversaw the creation of a, "www.WhatKindofTrimmerLineToBuy.com," designed to help users select an appropriate product for their specific needs and preferences. The site was incorporated into the packaging via a QR code to help customers make informed choices while in the store.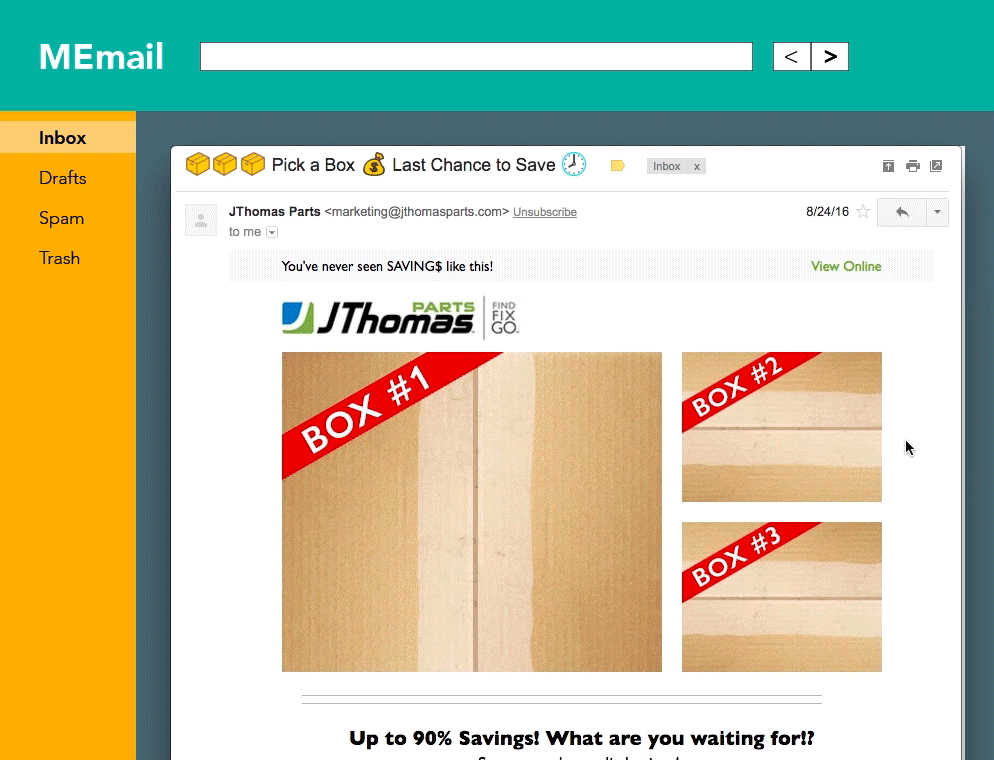 EMAIL CAMPAIGN — 1 OF 3
Role:
Creative Director, HTML Designer, Illustrator, Photographer, Copywriter, Analytics Reporter
Task:
Create engaging emails to increase click rates and inevitably sales.
Solution:
Across all emails there was a substantial increase year over year. While Google Analytics showed an increase in opens, clicks, and revenue, the most impressive number was a 168.7% increase in sales!
SOCIAL CAMPAIGN
Role:
Creative Director, Designer, Photographer, Copywriter
Task:
Create a campaign to increase social interactions.
Solution:
The JThomas target audience is 18-60 year old males. They are outdoorsy and usually technology-adverse. So getting them on social platforms at all is a challenge all its own. This particular campaign was the most successful. It allowed us to highlight products they may not know were in the product lineup. But it was also a low-key, guessing game for them to comment on images for the potential to earn a free giveaway item while connecting with fellow landscapers.
SPOKESPERSON
Role:
Creative Director, Designer, Photo Retoucher, Copywriter
Task:
Create a knowledgable spokesperson for the JThomas brand.
Solution:
Meet Jay. He was a stock photo with about 10 different poses. From there, I used Jay to create a voice of wisdom and advice that customers could depend on. He was responsible for giving handy hints throughout marketing pieces, causing mischief on social media, and being the face of the brand.
CUSTOMER PHOTOSHOOTS
Role:
Creative Director, Photographer
Task:
Photograph customers in action to use in a wide variety of marketing materials.
Solution:
High-quality images of landscapers maintaining equipment to use across all media. Customers responded well to seeing people just like them become part of the marketing material.
DECK MAINTENANCE KIT PACKAGING
Role:
Creative Director, Designer, Photography, Copywriter
Task:
Design an eye-catching box to be used in a retail setting for homeowners to purchase. Create a visual identity system to quickly distinguish brands.
Solution:
Dynamic packaging created at a large enough size to fit a wide variety of product sizes. Box design includes space for a label to identify the box contents. Label features a large color block to identify the equipment brand the replacement parts will fit.